Gallery of Oettinger Tailpieces
Examples of Oettinger tailpieces kindly shared by banjo players from around the world.
4 String Oettingers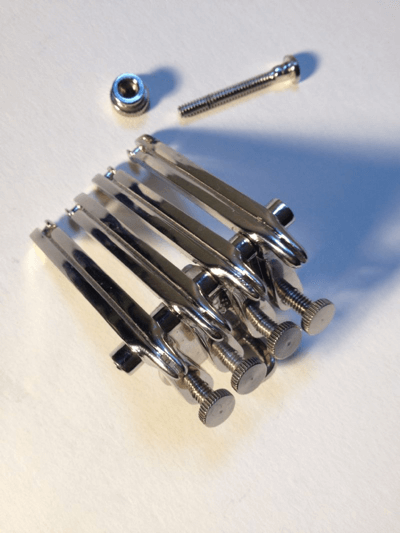 This was installed as an upgrade on a 1980's Ome, I don't know the history of Oettinger, I guess this one is "recent". Ome still have some for sale. Funny because I tested many configurations with this banjo (tailpiece, bridges, strings, heads, etc...) and finally I didn't find any improvement with this Oettinger, so I re-installed the original Ome tailpiece.
~ pasdimo (BHO Member)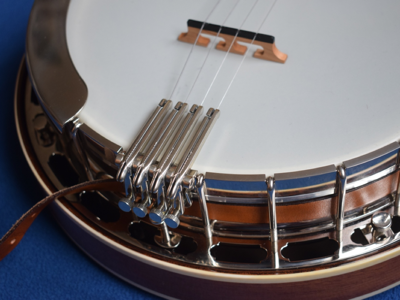 I am absolutely blown away by the beauty of the tailpiece. You are really a very handy craftsman.
I couldn't resist and immediately mounted the tailpiece on my Čapek banjo. When I played, I felt like I was playing a completely different instrument! I wouldn't believe what change the tailpiece will make. I bought the tailpiece because I really like how it looks. But I honestly thought that its sound features are little bit overrated. They are not at all!!! The banjo is now very well sound-balanced---nice bass and clear highs. Exactly what I wanted.
~ Jiří Czech Republic
5 String Oettingers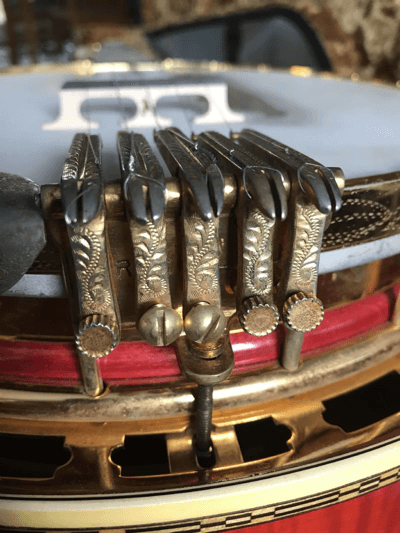 Here are some photos from a tailpiece that I have on my Gibson RB-800.
Not a true Oettinger, as I think it may be a Richelieu, but I love the way it performs and it really enhances the sound of my instrument.
It's unusual that the tailpiece is engraved. Never seen a engraved one before or since.
Including it here as I am amazed that you are taking this type of work on and if you decide to go off the deep end and start engraving them, here is an example.
~ Alvin Conder (BHO Member)
I love this fancy Oettinger, the two replacement screws add to it, it's obviously a much loved old-timer.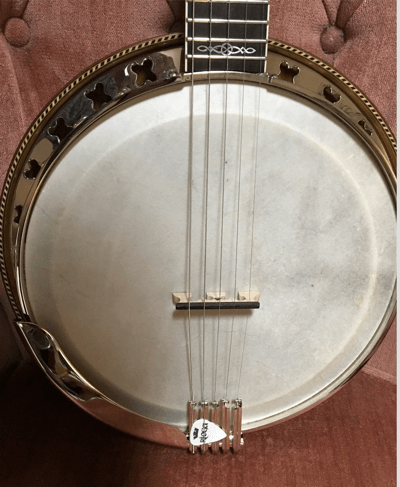 Renée got me an Oettinger tailpiece for my baritone banjo.
This banjo sounds PHENOMENAL with the Oettinger tailpiece and Rioga bridge. It's the all-purpose 5th tuned banjo and more!
~ Peter Pardee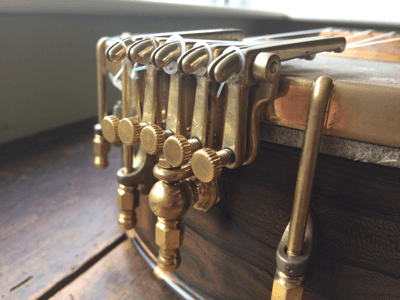 One of my own on my 24" scale, 12" rim Ziricote banjo.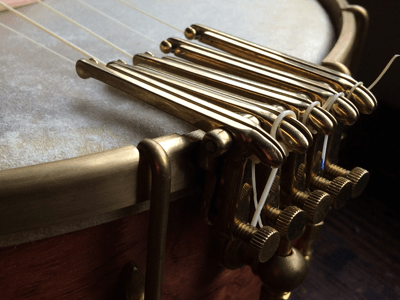 Nice brass Oettinger on my 24" scale, 12" rim Bubinga banjo.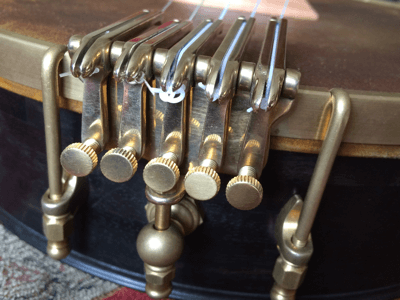 Nice brass Oettinger on my 24" scale, 12" rim Ebony and Tiger Maple banjo.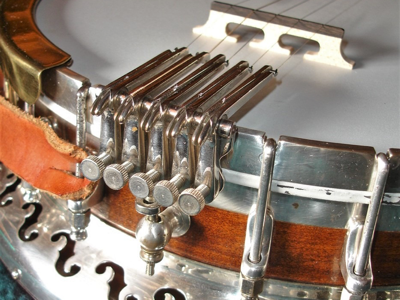 This Bacon Silver Bell No. 1 has a 1915 pot fitted with a 5-string neck and Oettinger from a junked 1928 instrument. The nickle plated brass tailpiece's 2 tension hoop mounting flanges sit on either side of the middle (3rd) finger. The banjo is set up for bluegrass and now has the 4th string finger down to only 3/32" (2.4 mm) above the head, and the 3rd not quite as far, for noticeably enhanced bass response.
~ Chuck Erikson, USA.
(BHO Member)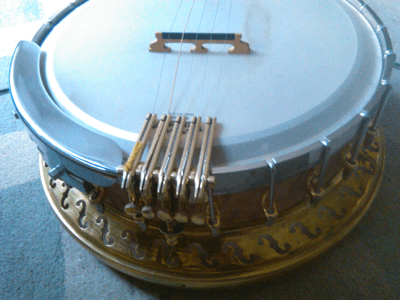 One of my 5 String tailpiece's in brass on what appears to be a Bacon & Day arch top banjo, owned by Herbert Bambl from Germany.
The Banjo is made by myself has tree of life pearl inlay 27 frets. The tonering comes from a Washburn from the early 80s (the Washburn never sounded good the fault was the many layered woodring). My woodring is Boxwood in connection with this wood this tonering sounds better than any other Flathead rings I have. The type of flange improves the sound because the inner space is wider, the wood cover at the rear is Myrtle.
~ Herbert Bambl, Germany.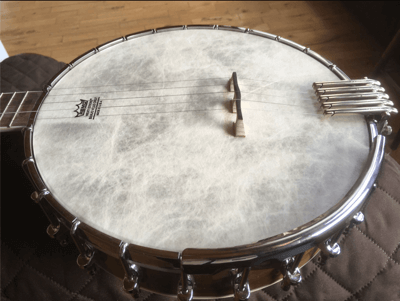 One of my 5 String tailpiece's in Nikel Silver on a Recording King open back banjo, owned by Leland Smith from USA.
Finally got it this morning. Fantastic job! Thanks again. I wanted to install the tailpiece on an Orpheum #3 but the archtop prevented that, so I put it on my Recording King openback.
~ Leland Smith, USA.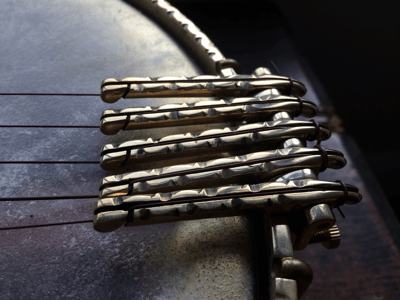 Probably unique and certainly fancy, one of my 5 String tailpiece's in Brass on the open back Yew banjo that I made.
The pattern is known as Vine and Thorn and is usually found carved onto the blades of high end hand made knives.
6 String Oettingers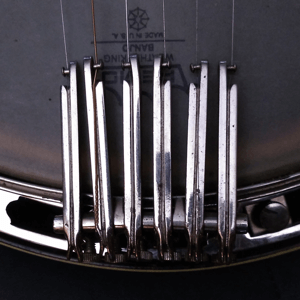 An original nickel plated six string Oettinger mounted on a 1931 GB1 Gibson banjo, owned by Leslie R, Texas, USA.