5 String Oettinger Tailpiece
An original 5 string Oettinger tailpiece is very rare. The tailpiece was invented in the 1920s and 4 string banjos were more popular back then than 5 string banjos.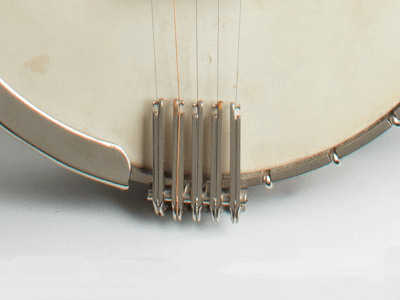 Although listed in the Bacon & Day catalogs as an option on some models, very few 5-string banjos were actually made by them. So, an original 5 string Oettinger is very rare indeed. Company founder Fred Bacon was a 5-string player himself, but by the time he and David Day had the Silver Bell design on the market, most working banjoists were tenor or plectrum players.
This one appears to be nickel plated brass. Interestingly, the two hooked protusions that sit on the top of the tension hoop, appear to be either side of the middle 'finger'. On later models and replicas, these hooks were moved to be between the first and second and the fourth and fifth 'fingers'. It was a design improvement that stablised the tailpiece.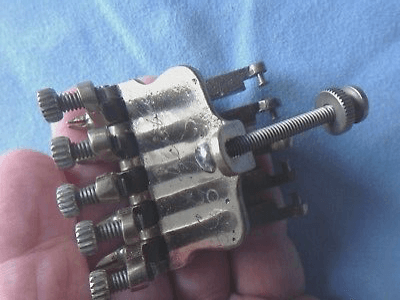 A Richelieu version of the 5 string Oettinger. The thumbscrews on this replica have straight knurling but it appears to be a coarser grade than the original knurling. They were cast in brass and most often nickel plated.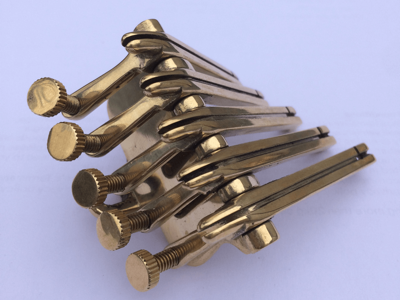 A modern version of the 5 string Oettinger made in brass. The fingers on the originals were often loose but this example has each finger tightly fitted at assembly time. The thumbscrews on this replica have the correct straight knurling and are the same size and the same thread as the originals.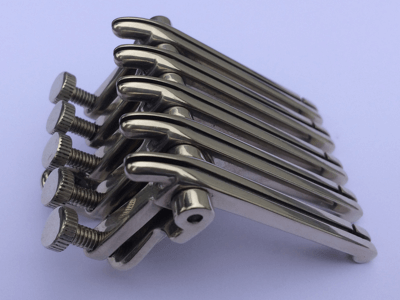 A modern version of the 5 string Oettinger made in solid Nickel Silver. Nickel Silver is also known as German Silver. Being solid metal, (ie. not plated) the finish is everlasting and will not wear off. Minor scuffs and scrapes can just be polished out. As far as I am aware this is the only Oettinger tailpiece ever made from solid Nickel Silver.